PAN "CLASSIC 3" is the latest model of the box and consists of the body container and three inserts.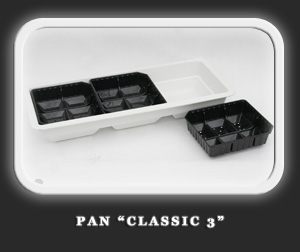 Unlike previous model PAN "CLASSIC", this new box allows more variations for combining colors and plants by exchanging the upper inserts. Thanks to the unique three – insert construction maintenance and transportation is even easier than those of the previous box model.
Standard dimensions are 33x86x15 cm, capacity 20 liters. Material: ABS
THE BOXES ARE IDEALLY SUITABLE FOR:
backyard gardens and balconies
greenery of cities, terraces, commercial areas
growing herbs
greenery at cemeteries
WHY PANTIO BOXES?
There is no need for weeding plants in the box
Easy-to-change composition (thanks to perforated inserts)
Boxes are suitable for growing plants in areas with bad quality soil
Long-term water reserve (in cases of drought or rare watering). Reduced plant care costs.
Protects against tree roots
Water amount equalizer (prevents plant roots' decay)
The system protects plants from parching thanks to the double partition walls